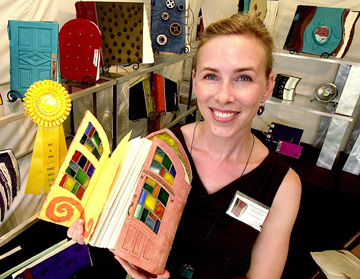 "Bookbinder Wins Best of Show at Arts Festival"
Belleville News Democrat – Monday August 28, 2006
FAIRVIEW HEIGHTS, IL – Bookbinder Marcia Engeltjes was awarded Best of Show at the 19th annual Midwest Salute to the Arts during the weekend. The $1,500 prize, the second highest in the show, honored Engeltjes' craft among the 99 other invited artists at the festival. They participated in 11 different creative categories from watercolor and photography to woodcarving.
Engeltjes began binding books in 1988 during her art studies at Central College in Iowa when an art professor introduced her to the form. "I was hooked from the first book I bound," she said. Since then, the artist has won nearly 45 art awards, including Award of Excellence at the 2005-2006 Laumeier Sculpture Park Art Fair and Best of Category at the Belleville Art on the Square festival in 2004. This year, she made her fifth appearance at Salute to the Arts.
Engeltjes' unique take on bookbinding combines hand-stitching, metalworking and leather cording with stained glass designs, metal engine parts and handmade papers and prints. "My dad was a parts manager at a diesel truck shop. One day, I asked, 'Hey, do you need these?'" she explained of the found objects that are central to her trademark look.
The binding process includes folding acid-free papers in half, stacking them into blocks called signatures, and then hand sewing each signature around leather cords with a needle and a thread, a technique that dates back to the sixth century, she said. "I'm usually working two books at a time that take a couple of weeks to finish." The spine is then clamped, brushed with an archival permanently flexible glue and immediately hammered to round and tighten it, according to Engeltjes' Web site www.leatherbooks.info. Cover boards are affixed to the leather binding cords and embellished with multicolor cotton or silk headbands, a feature that is characteristic of antique books. "These pieces are meant to be heirlooms," she said. She hand rips or trims each page of paper with a razor blade to create uniquely angled shapes. And to seal the deal, designs 3-D covers of leather, metal and stained glass.
All of this she does in her one-woman studio in St. Paul, Minn. "It's just me and the cat," Engeltjes said. Drawing on a dominant customer base of custom requests, her pieces range from $26 to $5,500, with the majority falling between $295 and $1200.
In the last two years, she's seen a boost in international orders thanks to cyberspace. "Books don't have to be square," Engeltjes explained. "I've done a lot of experimentation with different binding processes. I'm trying to go a lot wilder, almost to the point of nonfunctional."
A full listing of 64 awards may be viewed here.
Exquisite Custom Leather Books