Personalized Pet Scrapbook for your Cat or Dog –
Plus, see how it's made!
Have you been wanting a customized album for your beloved pet? Whether it's for a cat, dog, horse, or any other animal, you have come to the right place for a personalized book for your fur baby.
I just completed a custom cat themed album, and I thought I'd share it with you. In addition, in-progress images were taken. Therefore, you may see a glimpse of how some of it was done as you scroll down.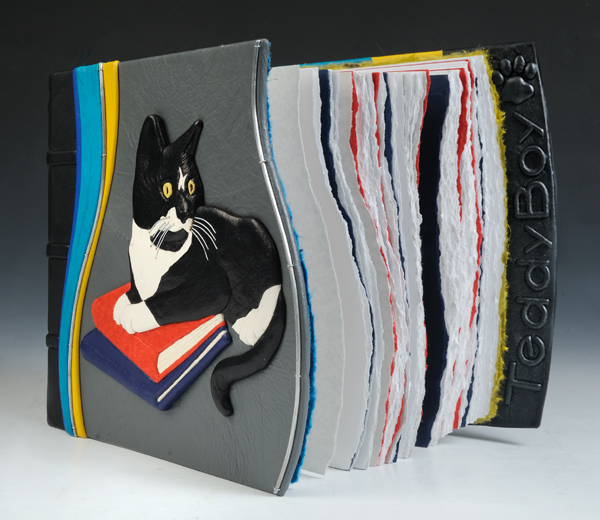 The Binding Process
It took many weeks to complete the customized pet album. First, I hand sewed the pages together with needle and thread.
Second, the stack of pages were placed in a clamp. Then archival permanently flexible glue coats the spine.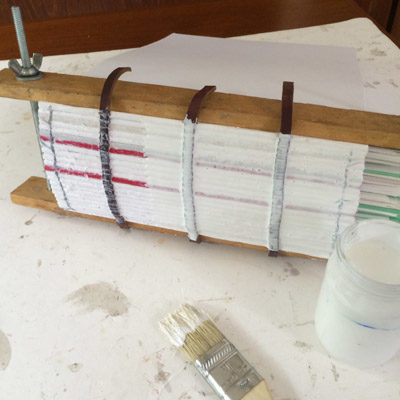 Third, hand hamming the spine creates a rounded classic shape. Also, it tightens the gaps between pages for a smooth finish.
After that, I add 55 pound tensile strength fabric to the spine. Therefore, the spine and the cover hinges will be of optimum strength and reinforced.
Handstitched Headbands
Following that is the addition of hand stitched headbands. I specifically like this step. To make one, I take a leather cord and wrap it with colorful threads of at least two colors and sew them into the pages.
I sew headbands directly into the spine edge for three reasons:
Firstly, to protect the spine if a book is bumped on the edge or falls to the floor.
Secondly, the headband serves as a handle to pull a vertical book off a shelf by the spine. Therefore, rather than pulling the book out by the leather edge, one can grip the headband. Then the pressure will be on the securely sewn headband instead.
Thirdly, the headband simply adds color decor to match the color scheme of the book.
Deckled Edge Pages
For this pet photo album, I handripped each individual page one at a time. As a result, I controlled each page to form the book into a specific curve. This curve will coordinate with the curved edges of the coverboards. Next, the cover boards will be added.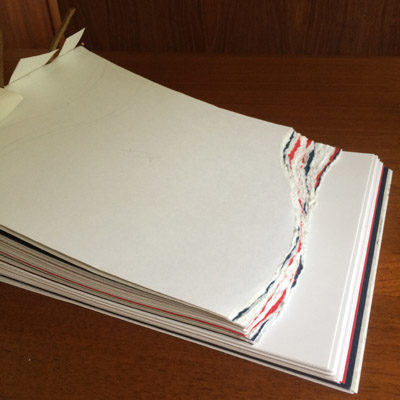 The Custom Leather Cover
Carving and Embossing
Then the best part begins, the leatherwork! To make a customized leather album for you pet, I design the book from a photograph you share with me.
I based this cat sculpture on the photo of TeddyBoy resting upon books. Subsequently, I tried to mimic the same pose for the album cover art.
This particular pet album was requested with a carved and leather wrapped version of TeddyBoy on the cover. To attempt to be true to life, I used leather colors to match his fur and eyes.
The sculpture of the cat is both built up and then carved down. Next leather wraps the form in small increments.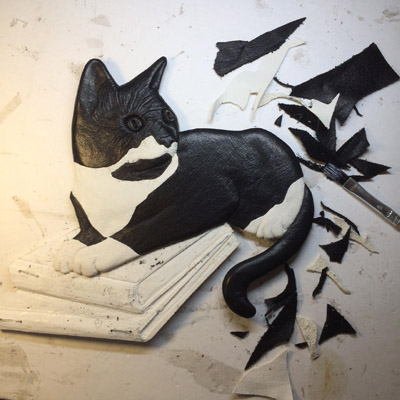 Attaching cat sculpture to the book cover
Once complete, the entire leather wrapped sculpture is both glued and wired onto the cover. To clarify, I placed wires onto the piece so it can be an heirloom keepsake with permanence. I always make my books to last.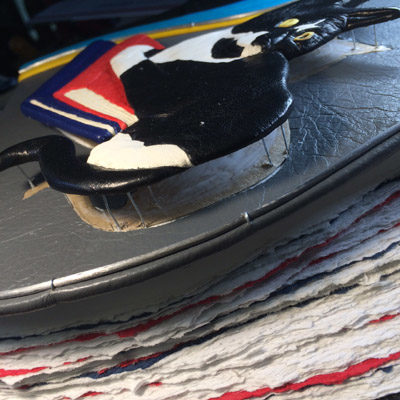 Leather Embossing
"TeddyBoy" lettering decorates the inner back cover. In addition, I handcarved a paw print as an accent. Black leather fits tightly over the lettering by slow embossing one inch at a time. (My own four pawed assistant helped, below right.
Coversheets
To conclude the book, I placed handmade papers on the inner covers as coversheets. Turquoise lines the front. Likewise, yellow lines the back. TeddyBoy's logo highlights both coversheets as seen below.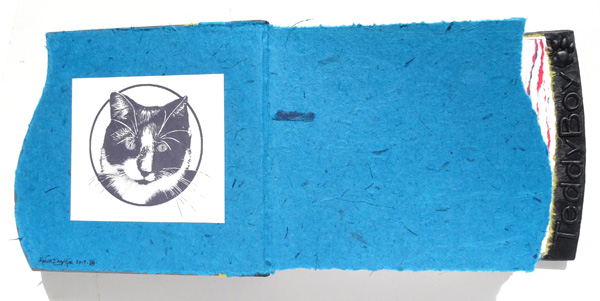 Striking a pose, here is TeddyBoy Sinclair himself with his photo album!
This Pet Photo Album is made for fellow book artist Judy Folkenberg.
Please check out her work at www.judyfolkenberg.com.
And be sure to see much more of TeddyBoy! www.teddyboysinclair.com.
If you wish to see additional details about how a book is bound, you may view more steps on my binding process page.
Contact me for a Customized Pet Album
I welcome Custom designs! You are invited to request a Customized Pet Photo Album for your favorite pet, or as a gift for a fur loving friend with a treasured pet. I will personalize it to any extent for you and for any type of animal. (No, it does not need to have fur – Lizards, birds, and snakes are all welcomed!) You may see examples of all of these animal themed books. Or you may peruse through additional photo albums in general. Plus, an assortment of various personalized books are viewable.